Background:
The Client owns an affiliate marketing website providing reviews and expert analysis on fitness equipment (treadmills, ellipticals, etc). Fitness equipment brands pay the client a commission of 5-10% for every purchase made when consumers visit the affiliate website, read about a product, click through and purchase equipment.
---
Takeaways
333% Increase in Referral Traffic
180% Increase in Google Traffic
---
Problem:

Snapshot of data from Google Analytics above.  Although there is always seasonality and the winter season is the high point, the website experienced a much sharper downturn in spring of 2014 than spring of 2013. This chart shows 2013 unique visitors in orange and 2014 unique visitors in blue. At the worst, a difference in the month between April 2014 and 2013 was a loss of unique visitors of -39% that translated into almost 8,000 fewer unique visitors. This chart also doesn't highlight the increase in paid ad spending to counter the loss in organic traffic in 2014.
---
The client was paying a certified personal trainer for writing eight articles a month. Four would be posted once a week on the blog, while four were meant to be published on authority fitness websites. The client also paid an SEO consultant to get four articles a month published on external sites to build links and an audience.
Problem was, the consultant wasn't getting any articles published. The website was also experiencing a loss of traffic in Google due to a penguin algorithm refresh a few months prior to the engagement. In addition, the domain had less authority than in prior years (domain authority is a measurement of the quality and number of backlinks to a website).
Solution:
The client hired Cleverly Engaged Marketing to increase links, build traffic in Google and get the personal trainer's content published on authority websites. At the start of the contract in July of 2013, the website was ranking poorly in search results. There was high link attrition, the domain had backlinks, but many were spammy directories that disappeared in the wake of Google penalties throughout 2012 and 2013. Those links that remained had lost authority and it was hurting the ranking ability of the client's website.
---
1. Guest Posting
With a backlog of fifty expertly written fitness articles that hadn't been published and four new articles arriving each month, CEM quickly pitched hundreds of blogs and was caught up within a year. A byproduct of boosting the website's credibility through guest posts, was boosting the writers visibility and even establishing new paid writing partnerships. To the right highlight several of the authoritative sites that published the fitness, diet and weight loss articles, with all generating referral traffic through a backlink in the bio.
Guest posts received a backlash in 2014 from Matt Cutts, chief of webspam at Google. But, guest posting shouldn't be dismissed, Cutts was highlighting the wrong type of a guest post, poor content with the sole purpose of gaining a backlink.
The writer was a certified personal trainer with nine years of experience in the fitness industry. She was an expert and provided useful content to readers. Getting it posted on top fitness sites wasn't about ranking, it was about capturing valuable referral traffic, growing the audience of the personal trainer and the client.
On the right, I'm highlighting a screenshot of referral traffic taken from Google Analytics for the client. The purpose of guest posting is publishing content on a site that has the potential to reach customers and potential buyers. The client is now receiving over a thousand visitors each month from several guest post sites and those visits are from potential buyers. We can even track how many of those visitors purchase a product and generate revenue. If content published on a guest post site doesn't generate traffic, attract new followers or shares, then it's best to move on and look for another opportunity.
---
2. Schema Review Markup
In May of 2014, CEM and the client implemented schema review markup. It came at a time when Google removed author photos from search results. Schema review markup led to a higher click through rate. If a website was ranking towards the bottom of a page, the review markup captured eyeballs, generating higher CTR and ultimately sending a signal to Google that the content deserved to be ranked higher.
3. Keyword Stuffing Penalty
By 2014, it was clear the website was experiencing an algorithm penalty by Google. CEM had generated solid backlinks and published content on a variety of websites, yet the site was still not breaking out in organic search, causing another strategy to be implemented.
The product review pages had accumulated hundreds of comments, with users frequently mentioning the same keyword phrase (the product name) multiple times. It was also taking hours each week for the client to approve and respond to all the comments. So we removed all comments and at CEM's recommendation, made a few other changes to the structure of the page content.
---
Published on these top fitness sites:
MyFitnessPal
T-Nation
PeerTrainer
Inspiyr
Spryliving.com
The Active Times
SheKnows
diet.com
fitness.com
lifehack.org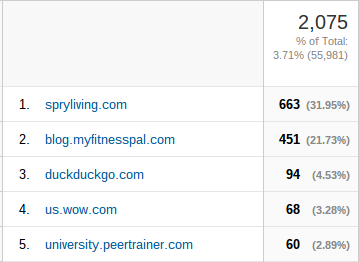 ---
---
Results:

---
The above screenshot from Google Analytics, highlights the positive shift in unique visitors occurring in June of 2014. It took almost a year of building backlinks, publishing content, and tweaking on page structure until the positive changes in organic search occurred. Realize, this is consistent with SEO campaigns of this scale and when Google penalties are involved.
May – June of 2014 also aligns with a major Panda algorithm update and refresh. Many of the client's competitors hadn't implemented ethical SEO strategies and as a result, were penalized in Google and are still being affected by the algorithm.
Comparing January
January 2015 was the best month ever recorded for the client. Historically, January 1st is the biggest day of traffic and sales. It is without question that a majority of fitness equipment shoppers buy on the 1st of the year and especially in the first month of the year.
In January 2014, the client was still being penalized by Google, and traffic was lower than the year prior… For the entire month of January 2014 compared to January 2015, the client experienced a 51% growth in unique visitors. Slicing it by source, it reveals a huge organic growth of 180% in non-paid search,  and a 333% growth in referral traffic. January 2014's traffic was inflated by a large number of paid advertising.  In January of 2015, the website reached 67,000 visits, previous January's received 47,000 site visits on average each.
Ongoing Relationship
Like many clients of Cleverly Engaged Marketing, this is still a satisfied client and the efforts of building Google search traffic, referral traffic and converting visitors on the site is endless. This was our first client and likewise, the longest client we work with, at close to two years.
January 1, 2012
site visits
---
January 1, 2013
site visits
---
January 1, 2014
site visits
---
January 1, 2015
site visits!