---
---
SEO Services for San Antonio Businesses and Beyond
Cleverly Engaged Marketing provides search engine optimization to businesses of all sizes throughout Texas and beyond. A holistic inbound marketing approach, history of results and dedication to ethical practices sets us apart from many other competitors.
We also live, work and seek out fun in San Antonio, something we are proud of! We approach SEO from the angle of a customer; searchers simply want to find the best answer to a problem. Whether the problem is an injury from a car accident, or an air conditioner that stops working or a business that needs more widgets, search engines, specifically Google, is often the only destination required for customers to find answers to their problems. Unfortunately, many businesses fall into the trap of paying for outdated advertising tactics or marketing solutions that are no longer reaching and converting customers. If you've been paying for yellow page advertising for twenty years, consider putting your money where your customers are located!
How to Rank in Search Results
64.4% of customers use Google over Bing, Yahoo and other search engines as of February 2015
What does it take to rank well in search results? No-one knows the answer, Google's algorithm is a highly kept secret, although there are many top signals we know are ranking factors:
Content: as a client of CEM, we will revise and even overhaul your web content. To solve the customer's problem, content can't be duplicated across the web, it needs to be unique. It also needs to speak to your value proposition and help customers understand how you're different. Finally, it also can't have spelling mistakes or be too short or a big block of copy either. Content should engage the reader, not encourage them to leave the site.
Keywords: It's important your message is aligned to the right search terms. Ranking for keywords involves use throughout the meta title, description. h1 – h6's, body copy, alt tags in images and more. Although too much use is a cause for a penalty. Keywords and variations help diversify a page's ranking potential and prevent a penalty from affecting rankings. Google is now a smart search engine and doesn't need the same word repeated excessively.
Link Authority: Search engines still primarily rely on the inbound links to your site overall and the specific page for ranking. Though link building has been heavily mistreated by SEO consultants, there is an ethical method to build links to a domain and page.
On Page: SEO is often best in tandem with the design of a site, better is even before the site is designed. Many web designers aren't user experience experts or developers. A site should be quick to load on both desktop and mobile. The site experience should be optimized for both desktop, tablet and mobile devices and it should engage customers to encourage interaction and conversion.
Search Engine Real Estate
When a customer types in a search phrase, we often think about getting our web page to rank at the top or number one for the term. Often, this isn't possible and it's not enough. The real estate of search results can be crowded with a variety of companies all competing for the customer's click and business. We had an article recently published on this very topic! When Cleverly Engaged Marketing works with clients, it's never our goal to get customers first in search results, it's our goal to get customers first in search real estate.. Let's look at the image below to learn why.
Paid Search Advertising – 20 – 30% of traffic
It's a myth that paid search should only be completed when a company isn't able to rank organically for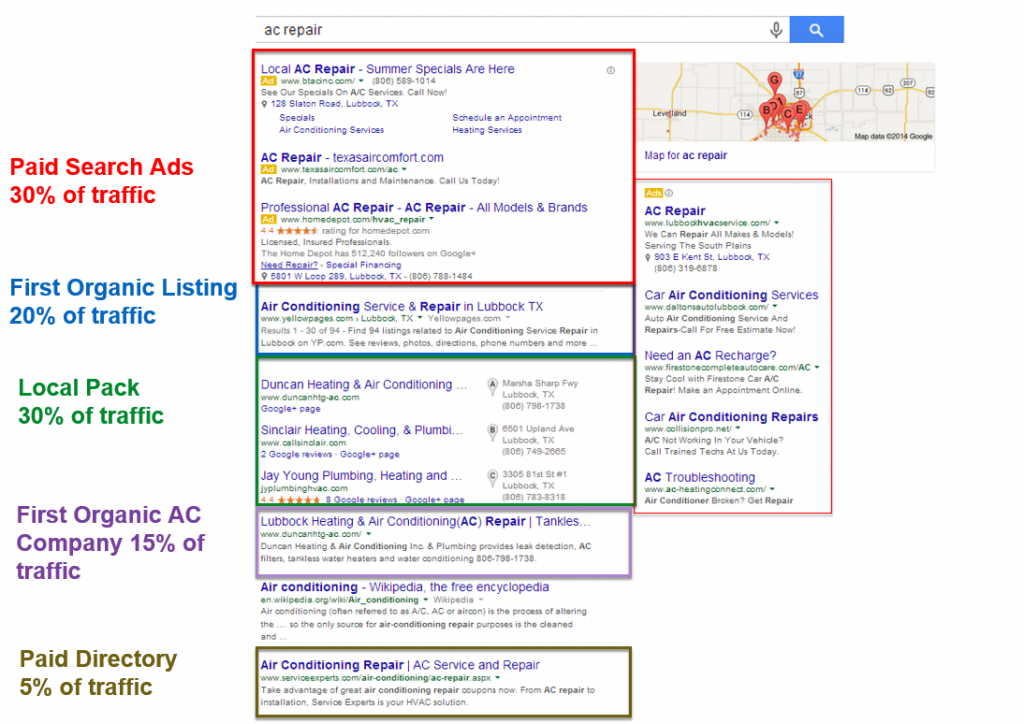 keywords. Paid Search is paid real estate in a prime location on the page and independent studies have concluded it gets a high percentage of the clicks. Although it is true for some industries, paid search can generate low quality leads compared to organic search visits and it costs money for each click, conversion or impression. When paid search is combined with ranking well organically, a company can benefit from the added brand impression, outpacing well ranking competitors who aren't listed in paid search results.
Organic Search – 70 – 80% of traffic
Right off the bat, we can see the importance of organic search as it earns 70 – 80% of clicks in Google. It's also important to note, almost all demographics click on organic results, however many demographics skip past ads completely and every time. The younger your target audience, the more likely they will ignore paid advertising, while older shoppers are more likely to click on paid ads. It can also be affected by your industry and the products or services you sell.
The First Result: Like many local search terms, the first organic result is typically not a competitor, but a local directory. The first result in Google can earn 20 – 50% of all clicks, so it does help to be at the top, even though that's not everything.
Google's recent Pigeon update further improved the visibility of these local directories like Yelp, Yellow Pages, BBB and industry specific sites. Why? Well they do a good job of showing multiple companies, not just one. Searchers like seeing unbiased results. When a customer types in "ac repair" they often are looking for multiple AC companies, not a single company. The decision on which company to call and ask for a repair, is often based on reviews but it could also be the look of the website or hours of operation or location.
It's important to keep in mind, search intent is largely a factor in why some listings outrank others. Given, it's much harder to outrank YellowPages for the first spot, so why not try and rank towards the top within YellowPages? This is a recommended approach, but realize I am not endorsing Yellow Page advertising. In fact, I've written an in depth article discussing paying for advertising on Yellow Pages vs. other options.
Local Search
Ranking well in local is a very different process from organic listings,  involving consistent data, optimized categories, and many citations on third party sites which validate the address and business information. In this example, notice the Jay Young Plumbing. Although the local pack will receive 30% of clicks on average, Jay will get many more clicks then competitors, due to reviews. A local review strategy can grow and build reviews, standing out from competition. In addition, many searchers won't even click on the website, but will call straight from the results page on a mobile device. This can complicate proving ROI, and it requires following up with each customer and asking how they found your business.
Paid Directories
There are many paid directories for local depending on the industry. Some will rank for many terms, occasionally even in the first three positions. It's important to realize every customer that clicks on this paid result will be presented with companies that are advertising on the network, HomeAdvisor is another popular paid directory in the home services industry. Paying to receive clicks from customers isn't taboo, simply measure if the customers that result from this paid service provide a return to more then cover the cost.
Top 5 Misconceptions About SEO
Special Offer
If you made it this far down on the page, it's time you contact us! When you do, you'll receive a complementary website audit worth $500.