Avoid Mistaken Identity in Local Search
The name is one of the first decisions to make when starting a business and the identity for a brand. The name is what we want customers to remember and where we want employees to work. So where does it go wrong?
As important as the name is for a business, there are many considerations, including legal and government related that need completed. A business name can also be muddied when there are multiple locations or if an acquisition/merger is completed.
1. Not Using the Legal Business Name Online
It is common practice, many businesses use a different name than the legal name online. Hopefully, it isn't for spam, like stuffing in a bunch of keywords. Remember, that Google guidelines state:
Your name should reflect your business' real-world name, as used consistently on your storefront, website, stationery, and as known to customers.
So what happens if you just re-branded? Your design team isn't likely to follow-up on this next part.
The name used in a business registration is the legal name and it's typically filed with the Secretary of State. Each SOS is different, but most states have an online search where you can view active business licenses. For my state it's sos.state.tx.us and there's a fee to access the data. Your state may also have a comptroller/accounting office that publishes entity data, such as mycpa.cpa.state.tx.us.
Dunn & Bradstreet (D&B), the oldest business directory in the U.S. pulls data primarily from state registrations. It's an important data aggregator and feeds many other sites. Go to https://iupdate.dnb.com and check for name, address and other inconsistencies. If you aren't listed, get a D-U-N-S number.
So what are the reasons for not using the legal business name online? I've heard a variety of excuses including:
We want to rank better in Google and our legal name doesn't describe what we do.
We rebranded and our designers liked a different name better.
Our accounting department said it was easier to file a different name for each location (even though all locations offered the same service).
The company we hired, must have misspelled our name in the application.
We acquired a bankrupt company, rather than change the name we thought we could hire you to scrub the name online.
I used my personal name as the business name, but I like my privacy and prefer to not be the face of the company.
States will have Certificate for Amendment forms for making changes to the name, main office address and more. Your accounting department might throw a fit, but it's wise to have a business name and address that matches with reality.
2. Issues with an Assumed Name
Keep it simple stupid is a good rule. Use the legal business name for all locations, especially if they all offer the same service. An assumed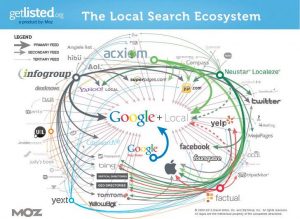 name adds an extra step of complexity. States differ on how a DBA or Doing Business As should be filed. Most require registration with the SOS. A few states also require registration by city or county of each physical office. As you can guess, it can be a hassle.
I've worked with clients with 20 assumed names registered. Realize, every assumed name is a public record, with potential to end up online, just like a legal name. Using a DBA does not hide the legal business name.
Data aggregators such as Factual, Axciom, ExpressUpdate and Neustar Localeze pick up on business registrations and DBAs. If you're using a different name online than what is registered, it can easily create duplicate listings. Duplicates that eventually feed sites that customers visit, like Facebook, Bing and Yellowpages.
Several sites won't allow for a business name to be listed unless it matches what is on record. D&B, Axciom, even HomeAdvisor will require a copy of a business license or DBA certificate.
Using a DBA vs. the Registered Business Name
If you decide to sell online under a DBA name, there will be sites that won't allow for a DBA to be used. I work with an insurance client that  was forced by the State to use the legal name, even though a DBA was filed. He heavily advertised in radio and TV under the DBA. As a result, he had potential customers call, that couldn't find if his agency was licensed to sell insurance. His insurance carriers would then display the legal name in their agency locators, further creating inconsistency and confusion.
An important local citation for many contractors are city permits, see an example. These can sometimes be online and include the legal name, address and phone number. Most state and federal licenses will only display the registered business name.
3. A Name That Isn't Memorable
Back in the phone book days, alphabetical listings meant higher visibility and more leads. Businesses followed by creating AAA Auto Repair and ABC Construction. I wanted to see how crazy this could get and found AAAAA Plumbing & Drain. That's five A's, don't forget one or you may end up on a competitor!
Nowadays, the trend has shifted to bloated, keyword rich names for local businesses. Using an exact match domain? That's an entirely different conversation, but if so, you probably have a generic business name too right?
In a recent study of Local Search Ranking Factors, including a city or state in the business name doesn't offer a local ranking boost. However, using keywords in the name does. Just don't take it overboard, or you'll risk not being remembered. Let's take a moment to critique a few business names and ask why?
A typical local business name, full of keywords and long! Funny thing is, this business is in Denver, not San Antonio.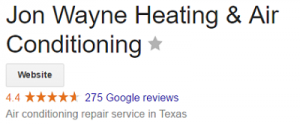 I'm always peeved when HVAC contractors in Texas, put heating first! It is spelled Jon vs. John Wayne, I wonder if that was after the name was rejected from the state for a trademark violation?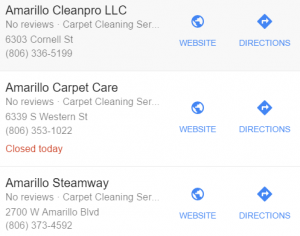 Can you decide on the best carpet cleaner in Amarillo by these names? Me neither!
A name that is forgettable and easy to misspell.

Beware of acronyms, which can be misspelled and misunderstood.

Can Your Name Be Protected?

If you're doing any form of traditional advertising, you're engaged in brand awareness. When someone remembers an ad, do you come up first when the name is Googled? How similar is your name to competitors? If the name is too generic, there's a real risk of not building a brand with name recognition.
Is the business name easily misspelled? I've worked with clients where even Google auto-suggested different search results, thinking the query was a typo. The longer a name and the more spaces, apostrophes, ampersands and keywords, the more confusion you will cause for customers and employees. The more likely there will also be duplicates and variations of the name online.
Own the branded search results for your company, by choosing a name that is unique and memorable. Use the name consistently, online and offline. Confirm that employees on LinkedIn are using the name correctly and that the state and county where you are doing business has the name registered.
Finally, don't forget about trademarks which can protect from similar sounding competition, and even in misspelled versions of a domain. Do you own the domain for the exact name of your business? Trademarks can also help gain ownership. Buy domains that are close versions of your own domain and redirect them to the main site.